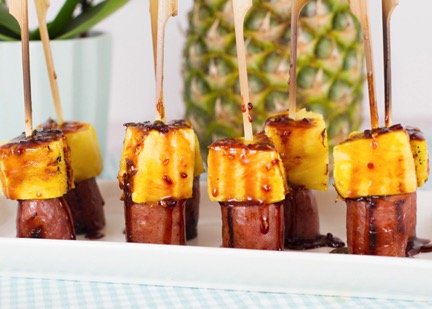 Ingredients
1 lb Roma Chorizo Sausage (or your favorite flavor)
½ fresh pineapple (cut into spears, then cubed)
1 cup teriyaki sauce
¼ tsp brown sugar
¼ tsp cornstarch (used to help thicken the glaze)
small wooden skewers
Directions
Soak wooden skewers in cold water (this prevents them from burning on the grill).
Measure teriyaki sauce into a small saucepan, stir in brown sugar. Heat over medium heat until it comes to a low boil.
Stir ¼ cornstarch into about a tablespoon of water until well blended. Stir into teriyaki sauce. Reduce heat to low and continue to simmer until sauce begins to thicken (20-30 minutes).
Cut each sausage into cubes and set aside (4-5 per sausage).
To prep pineapple, first cut off ends, and carefully slice off skin. Slice in half lengthwise, then into quarters. Cut out core. Cut each quarter in half. You should now have 8 peeled & cored spears. Cut 4 of those spears into cubes (same size as the sausage cubes). Save remaining 4 spears for enjoying another time.
Remove skewers from water and assemble with sausage & pineapple chunks.
Preheat grill to medium and grill, turning regularly for about 5 minutes or until heated through with nice grill marks.
Drizzle teriyaki glaze over top and enjoy!