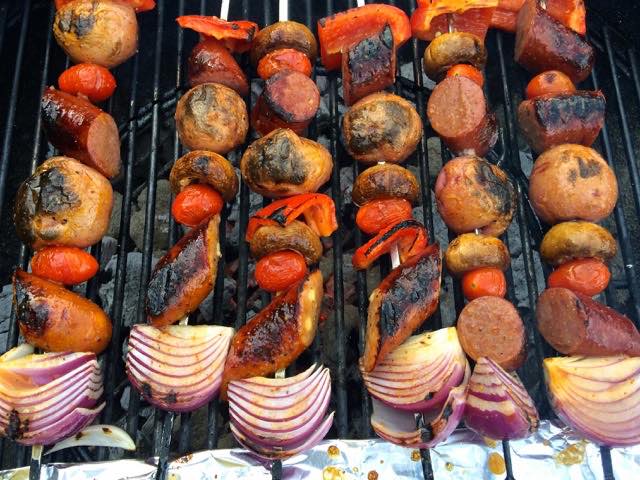 Ingredients
1/3 c. lemon juice
1/4 c. olive oil
1/4 tsp. salt
Crushed red pepper, black pepper, garlic powder to taste (optional)
1 lb. ROMA Italian sausage links (sweet or hot, parboiled 10 minutes)
2 med. zucchini, cut in 3/4-inch chunks
2 med. onions, cut in 1-inch wedges
2 med. bell peppers(red, green or yellow), cut in 1-inch squares
Directions
In heatproof bowl or foil container, mix lemon juice, olive oil, black pepper, garlic powder, if using. Set on side of grill over low heat. Cut par boiled sausages into 1-inch pieces.
Thread sausage pieces and vegetables alternately on skewers. Grill 25 minutes, turning and basting with sauce during last 15 minutes. Sausages should be well-done (cut open and test a piece) and vegetables tender.
Suggestion: Serve kebabs with a salad with Italian dressing.