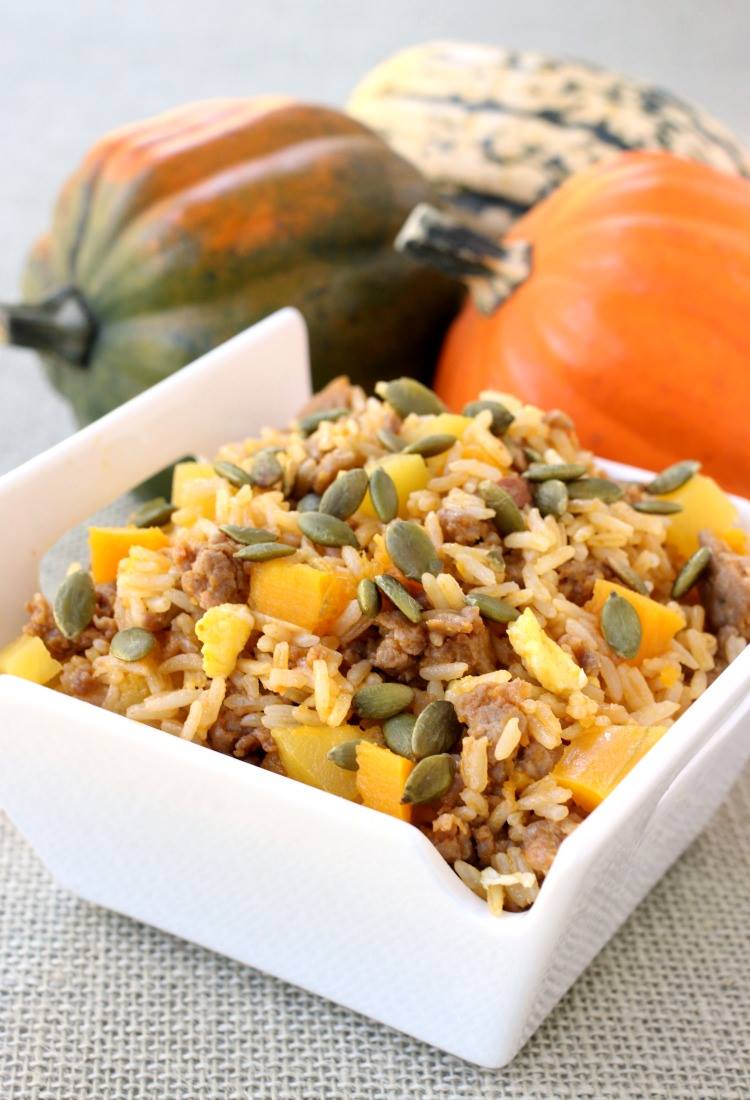 Ingredients
1 butternut squash, peeled, cooked and cubed
1 acorn squash, peeled, cooked and cubed

4 cups cooked white rice, cooled

1 lb Roma Sausage (casing removed, flavor of your choice)

¼ cup pumpkin puree

½ cup roasted pumpkin (pepita) seeds

2 tablespoons soy sauce

A few grinds of fresh black pepper

2 eggs, beaten


2 tablespoons canola or peanut oil
Directions
Peel both the acorn and butternut squash.
Cut the squash in half and place on a microwave safe plate with the cut sides up.
Place about a tablespoon of water into the centers of the cut squash and place in the microwave for 8-10 minutes, doing only one squash at a time. You don't want the squash too mushy for this, since you need to cube it up and add it to your stir fry. Repeat with the other squash and let cool.
Add a tablespoon of the oil to a large wok or skillet and heat over high heat.
Pour in the eggs and scramble, cooking for two minutes until just set. Remove to a plate.
Add the other tablespoon of oil and then add the sausage to brown, breaking up with a spoon as you go.
After the sausage has browned you can stir in the pumpkin puree.
Now add the cooked rice, soy sauce, eggs and cubed squash.
Stir and taste for seasonings, the soy sauce and sausage add saltiness but if you need a little more salt you can add it in to taste.
Scoop into bowls and garnish with the pumpkin seeds. If you can't find roasted pumpkin seeds just toss them into a dry pan for a few minutes until you can start to smell them, then remove from the heat and let cool.