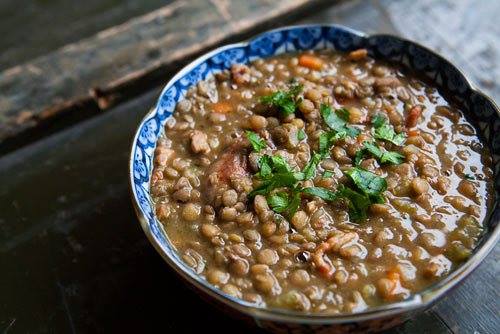 Ingredients
1/3 pound of bacon (about 5 thick slices), cut into 1-inch by 1/4-inch strips
1 medium-large yellow or white onion, chopped (about 1 1/4 cups)

2-3 large carrots, diced (2/3 cup)

2-3 large ribs celery, diced (2/3 cup)

1 teaspoon ground cumin

2 cloves garlic, minced (about 2 teaspoons)

1 pound brown or green dry lentils, rinsed and picked over to remove anything that shouldn't be there (like a small rock for example)

3 cups water

3 cups chicken stock* (can sub water for a total of 6 cups of liquid)

1/2 teaspoon dry thyme

1 bay leaf

1/2 lb Roma Gourmet Sausage (flavor of your choice)

1 teaspoon sherry vinegar (can sub cider vinegar)

1/4 cup chopped fresh parsley, with a little extra for garnish
* If cooking gluten-free, use gluten-free stock.
Directions
Heat a large, thick-bottomed pot (6 to 8 quart) on medium heat. Add the bacon and cook until much of the fat has rendered out and the bacon is browned and cooked through, about 10 minutes. Use a slotted spoon to remove bacon from pan to a dish, set aside. Remove (and reserve for another use) all but 2 Tbsp of bacon fat. (If you discard the excess fat, let cool to solidify first, then discard in the trash. Do not pour down the drain or you will clog the drain.)
Heat the remaining fat on medium high and add the carrots, onions, celery, and cumin. Stirring frequently, scraping up the browned bits at the bottom of the pan, cook until softened, about 5-7 minutes. Add the garlic and cook a minute more, until fragrant.
Add back in the cooked bacon, the rinsed lentils, stock, water, thyme, bay leaf. At this point add a teaspoon of salt and some pepper. You will season more to taste later. Bring to a boil and reduce the heat to a simmer. Cook partially covered until lentils are tender, about 40 minutes.
While the lentils are cooking, heat a frying pan on medium heat. Add the Italian sausage links. Gently cook, browning on all sides, until just cooked through. Remove from pan, let cool enough to handle. Cut into pieces of desired length (1 to 2 inches, or you can just keep whole) and add to stew for the last 10 minutes of cooking.
Add sherry vinegar and parsley to stew. Add salt and freshly ground black pepper to taste. You may need to add more salt than you expect, especially if you are making the stew with water only and not water and stock.